Oh, I'm a sucker for freebies!
If you're a subscriber to Freshwater and Marine Aquarium magazine, you may have already seen the freebie in the September 2008 issue that just came out. If you're not a subscriber or maybe just skimmed right by the ad... Fear not, fellow fish lovers! Nikabee's lookin' out for ya'!
Here's the scoop: New Life Spectrum is offering a free sample of their All Purpose Formula.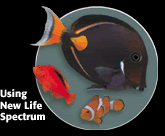 photo courtesy of New Life International, Inc

"Wow, how do I get my hands on this amazing free food," you ask? It's actually very easy. Simply visit their website and click the video button. Watch the video (not too bad, although the intro did make me giggle a bit) and then email them with the last 5 words of the video and your mailing address. Simple, right? (And no... I'm not gonna tell you what the last 5 words are ~ that would be cheating! lol)
Now, I've only used the Cichlid Formula myself, so I can't speak for the All Purpose Formula. I can say that I (and my fishies) ADORE the Cichlid Formula. It smells a bit funky, but in my experience ~ all good fish food does. That's because the primary ingredients in good fish food are... that's right, folks! Fish (or some other type of aquatic life). Even fish lovers like me have to admit that fish are stinky ~ especially when they're no longer living.
Word of warning for those that are concerned: the Cichlid Formula does contain Ethoxyquin as a preservative. Personally, I haven't had any problems feeding my fish foods that contain this, so I guess it's a personal preference-thing. I will say that although many are against the feeding of foods containing Ethoxyquin, I haven't found any concrete scientific study on its effects. The website does not list Ethoxyquin as an ingredient in their other foods, but if you are one of those people who are concerned about its use, you might want to double check the label when it arrives. But, even if you are and even if it does ~ what have you lost? A whopping 3 mins of your time. I say go for it... it's FREE!
Have any other freebies to share or want to discuss your favorite fish food (err... your fish's favorite food)? Let us know!